MANUFACTURER OF POST PATENT CROP PROTECTION PRODUCTS
PRODUCT INFORMATION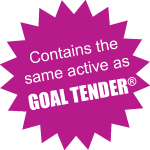 Product Information Bulletin
Specimen Label
MSDS
Agrian Label Search
Contact Sales
Oxyflo 4SC herbicide provides long lasting pre and post-emergent control of such weeds as lambsquarters, mustard, nightshade, purslane, shepherdspurse and sowthistle.  With it's low odor, high load SC formulation, Oxyflo 4SC provides low use rates ranging from 1 – 4 pts/A.  Post emergent control may be enhanced when Oxyflo 4SC is tank mixed with such products as glyphosate, paraquat or glufosinate-ammonium.
EPA Reg. No. 87290-10
EPA Est. No. 37429-GA-001
ACTIVE INGREDIENT:
Oxyfluorfen: 2-chloro-1-(3-ethoxy-4-nitrophenoxy)
4-(trifluoromethyl)benzene ……………………………………………….. 41.0%
OTHER INGREDIENTS: …………………………………………………… 59.0%
TOTAL: ……………………………………………………………………………100.0%
Contains 4 pounds active ingredient per gallon.
OxyFlo 4SC Benefits
- Water based flowable formulation.
- No odor.
- Increased crop safety.
- Excellent pre and post-emergent control.
- Long lasting control of multiple broadleaf weeds (see label).
- Multiple tank-mix options.
OxyFlo 4SC Controls
For use on artichokes (globe), broccoli/cabbage/cauliflower, cacao, citrus (non-bearing), coffee, conifer (seedbeds, transplants, container stock) and selected deciduous trees, corn, cotton, cottonwood, eucalyptus, fallow bed, (cotton/soybeans) fallow land, garbanzo beans, garlic, guava (Hawaii only), horseradish, jojoba, mint, onions, onions grown for seed, papaya (Hawaii only), soybeans, taro, tree fruit/nut/vine (as specified in the Directions for Use of this label).
Oxyflo 4 SC State Registrations
For complete state registration information refer to Agrian.com
GOALTENDER ® is a registered trademark of DowAgroSciences.