MANUFACTURER OF POST PATENT CROP PROTECTION PRODUCTS
PRODUCT INFORMATION

Product Information Bulletin (coming soon)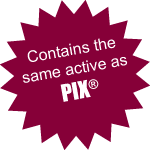 Specimen Label
MSDS
Agrian Label Search
Contact Sales
Willowood Mepi Chlor 4.2% is a plant growth regulator used primarily to control vegetative growth in cotton. By controlling vegetative growth early in the cotton growing season, growers can improve potential yield and reduce excess vegetative growth with the use of Willowood Mepi Chlor 4.2% . Reducing excess vegetative growth can also result in earlier and more timely harvest to reduce the chance of a late season weather incident.
EPA Reg. No. 87290-30
EPA Est. No. 19713-TN-007

ACTIVE INGREDIENT: % by Weight
*Mepiquat Chloride: N,N-dimethylpiperidinium chloride……………………………………………..     4.2%
OTHER INGREDIENTS: ……………………………………………………………………………………………   95.8%
TOTAL: ……………………………………………………………………………………………………………………. 100.0%
*Contains 0.35 pounds active ingredient per gallon

Mepi Chlor 4.2% Benefits:

Registered for use in all cotton growing States
Easy mixing
Reduces yield risk and quality loss due to delayed and prolonged harvest
Compatible with most insecticides and miticides (1)
Compatible with most foliar fertilizers(1)
Proven results
Rainfast in 4 hours
(1) Before preparing a tank-mix, always perform a compatibility test.  Always read and follow label directions.
PIX ® is a registered trademark of Arysta Life Science.